We're big fans of porgy. While the fish may not be as commercially popular as other local species, Chef Todd loves this fish for its taste, versatility, and sustainability.  To help spread awareness on this delicious species, he spoke with Food Republic on porgy's rising popularity. Using porgy in a trendy preparation helps to make a lesser-known fish more approachable for diners. We think you'll love the end result.
Chef Todd's porgy poke recipe is easy to make. Just follow the instructions below for a restaurant-quality dish at home.
Serves 4.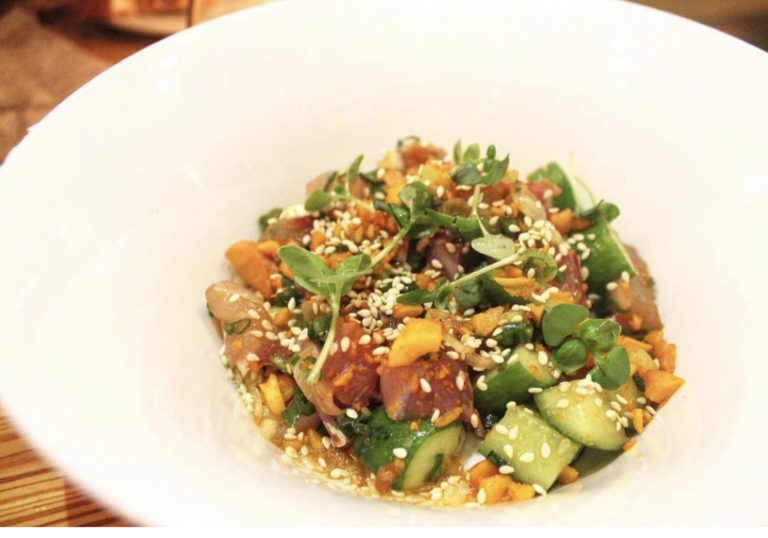 Ingredients:
Dressing
1 cup tamari soy sauce
1.5 cups cold water
1.5 tsp hot sesame oil
2 tbsp aged sherry vinegar 
Porgy
8 oz. fresh porgy, skinned and cubed
.5 cup cubed Persian cucumbers
1 tbsp toasted sesame seeds
2 tbsp candied macadamia nuts (or any candied nut)
2 tbsp scallion, thinly sliced
1/4 cup popped rice (like Rice Krispies)
2 oz. micro basil (or any fresh herb), for garnish
Extra-virgin olive oil, for garnish
Instructions:
Dressing
Whisk all ingredients together in a mixing bowl.
Porgy
Toss porgy with dressing, cucumbers, and scallions.
To Plate 
In four separate bowls, add a base layer of popped rice.
Top with dressed porgy mixture.
Add sesame seeds and candied macadamia nuts.
Finish with olive oil and micro basil