Nothing says summer like grilled shellfish. 
In 2010, the New York Post profiled Chef Todd's grilled shellfish recipes for an end-of-summer feature. This grilled littleneck clams recipe—a throwback from Chef Todd's South Edison days in Montauk—is perfect for a summer day.
Not sure how to grill shellfish? Don't worry. It's easier than you think!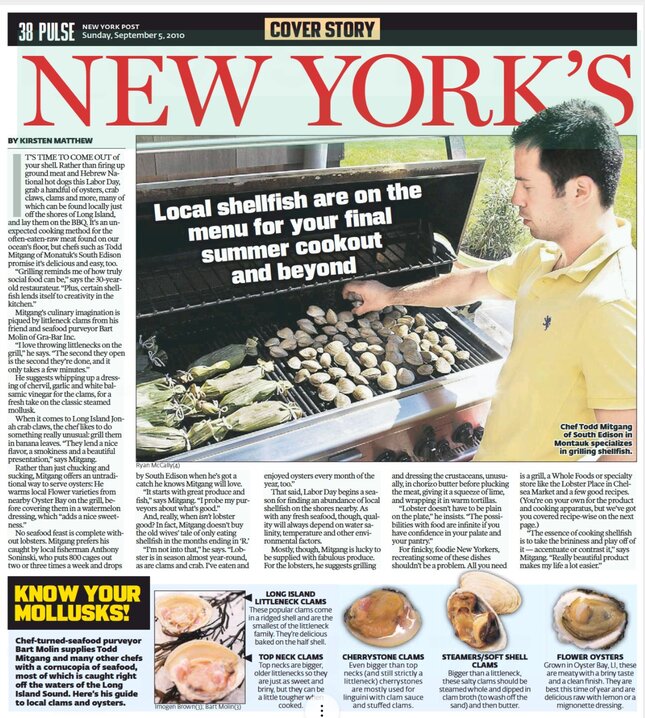 Ingredients:
24 littleneck clams, scrubbed and cleaned (When you order from our online Crave Fishbar Market, your littleneck clams will be cleaned and scrubbed for you!)
1.5 pounds lobster mushrooms (or any other wild mushrooms)
1 small Serrano chili, seeded and chopped fine
1 pound heirloom tomatoes, cored and squeezed into a pulp by hand
4 spring onion bulbs, finely sliced
4 oz. fresh chervil, finely chopped
1/4 cup white balsamic vinegar
3/4 cup extra virgin olive oil kosher salt
Instructions:
Mushrooms
Brush the mushrooms with oil and sprinkle with kosher salt and cracked black pepper.
Grill mushrooms on medium-high heat for about two minutes on each side, until they have a nice crust and are becoming juicy.
Chop mushrooms coarsely and add to a mixing bowl.
Add all other ingredients except the clams to the mix, and season with salt, to taste.
Littlenecks
Put littlenecks on the grill. 
As soon as they open completely, transfer them to a serving platter.
To Plate 
Spoon some of the grilled mushroom relish over the top.