Rich with flavors from the Mediterranean coast, Chef Todd departs from the traditional mussels preparation into a culinary adventure. Green olives, garlic, and shallots offer a savory contrast to the mussels' sweetness, while harissa gives a punch of flavor and spice.
This single-pot recipe takes less than ten minutes to cook.
Pro Tip: When you order P.E.I. mussels from Crave Fishbar Market, you'll receive two pounds per order, already cleaned, debearded, and ready to cook.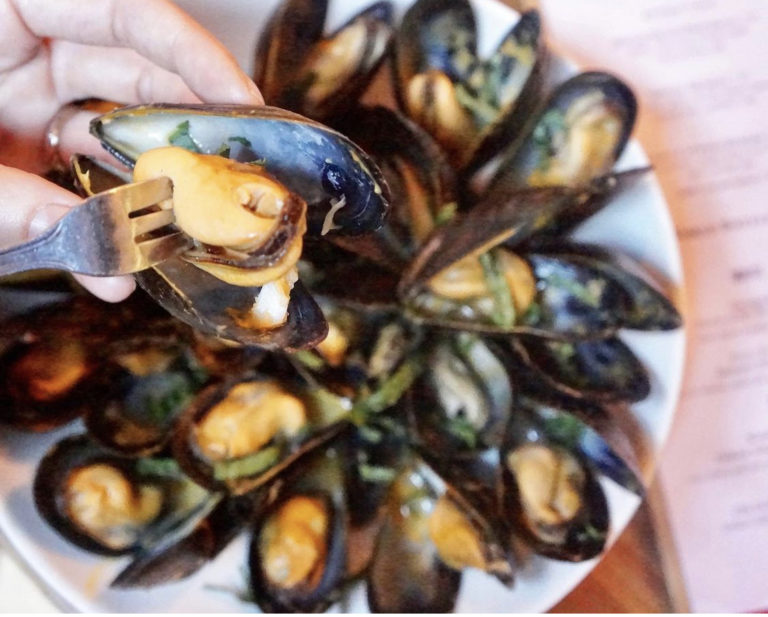 Ingredients:
2 pounds of P.E.I. Mussles, cleaned and debearded
Group A
2 Shallots Minced
2 Cloves of Garlic Grated or Minced
2 tbsp of Unsalted Butter
1 teaspoon of Salt
1 tbsp Harissa Paste 
1 Lemon Juiced
1/4 cup of Sliced Green Olives
Group B
1/4 cup Sliced Green Onions
1/4 cup Chopped (Chiffonade) Basil
Optional
Instructions:
Place a large pan (large enough for two pounds of mussels) on the stove. The pan should have a lid or aluminum foil cover. Turn heat on high.
As soon as the pan is hot (about 45 seconds to a minute), add the mussels and all of the ingredients in Group A.
Once the mussels are open (about 3-4 minutes), add the ingredients from Group B. Stir together.
Toss and serve with a baguette.