Crave Fishbar is proud to be the first 100% sustainable seafood restaurant in NYC.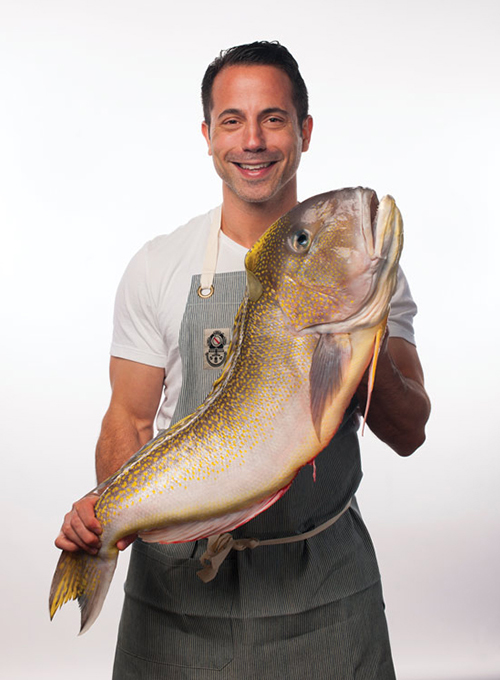 Our sustainable journey begins with a love for our local waters. As a neighborhood seafood restaurant, sourcing the best local fish and shellfish is central to what we do. Thirteen years ago, when co-owners Brian Owens and Chef Todd Mitgang opened Crave Ceviche Bar—Crave Fishbar's 21-seat predecessor—they prioritized quality, locality, and conservation in their sourcing.
"It was very important to us, at a local level, to make sure that we were choosing the fish that were plentiful and not endangered and would still live on for future generations in our local waters," Brian says. As native New Yorkers, Brian and Chef Todd wanted their restaurant to honor the coastal community.
"Part of my purchasing and sourcing was always–and let's not confuse local and sustainable–but it was always the highest quality, local when it could be, and that turned out to be mostly sustainable sourcing," Chef Todd explains. "So I don't think we realized it back in the day, but again, it always meant something to buy from the fishermen who were doing things the right way." Back then, sustainability was viewed in local terms, and not in the global context that it is today.
Crave Ceviche Bar struck a balance between sourcing wild fish and conserving coastal habitats, but the success was short-lived. A construction accident demolished the building in 2008, forcing the restaurant to close. Brian and Chef Todd expanded on their concept and in 2012, opened Crave Fishbar on 2nd Avenue, across the street from the former Crave Ceviche Bar.
With the success of Crave Fishbar, Brian and Chef Todd saw the audience they were reaching in New York. Although sustainability was one of the founding priorities of Crave's concept, it wasn't something we publicized. "It was just something that we thought was the right way of conducting or operating our business," Brian says. "But then we realized, we're doing a disservice to the entire sustainability movement if we don't actually talk about it to the thousands of guests we serve each week."
To help us understand what we were doing right, and what we could do better, we contacted the Monterey Bay Aquarium—global leaders in ocean science and sustainability—and inquired about a partnership. No other NYC seafood restaurants, at the time, served a fully sustainable menu.
The Monterey Bay Aquarium audited our menu and found we were one item away from being completely sustainable. It was an easy switch. But it was more than swapping blue crab meat for red crab on our raw bar—we had connected our local values with a greater global initiative, setting in motion a new standard for our New York restaurant community. Since 2014, many of NYC's best seafood restaurants have made a commitment to serving sustainable seafood.
Our understanding of sustainability continues to evolve with new information from the world's leading experts in ocean science. Below are some of the things we've learned along the way.
What is Sustainable Seafood?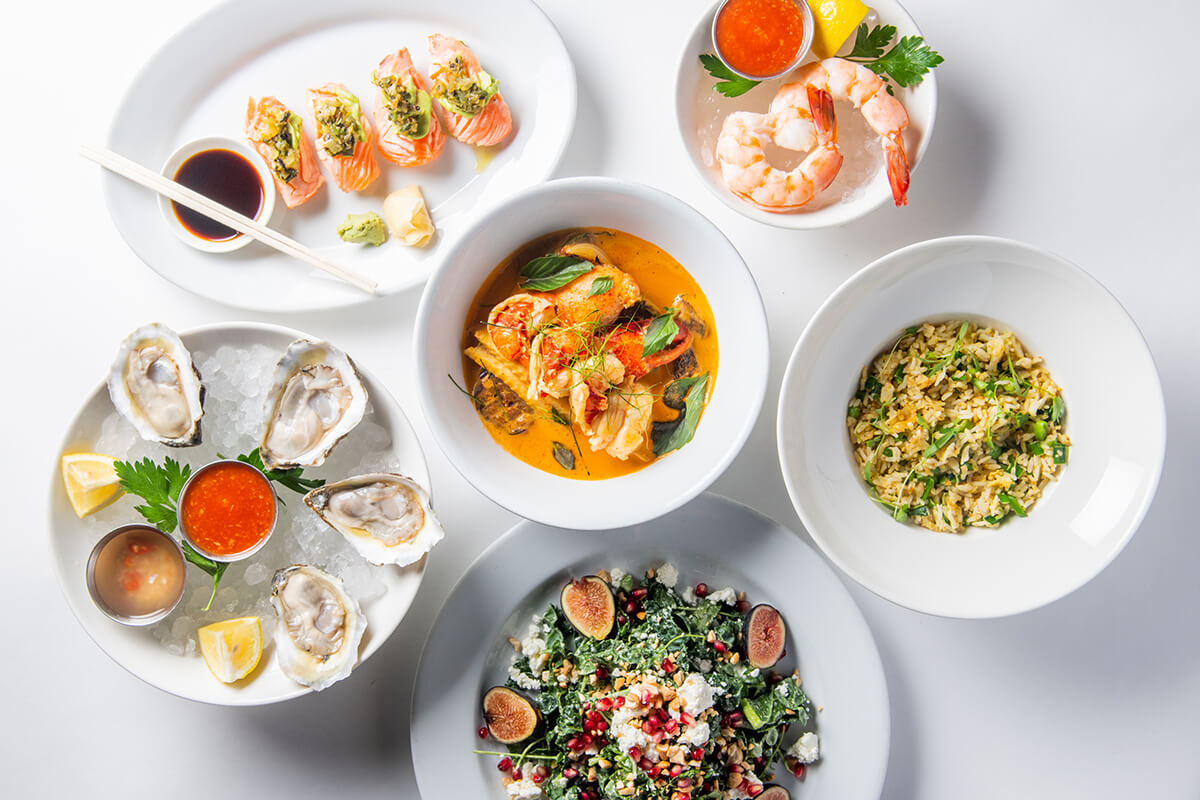 There's a lot that goes into defining sustainable seafood, and for a fish or shellfish to be truly sustainable, we need to consider the species, the species' habitat, the way the species is harvested, and any post-harvest environmental impact.
Both wild-caught and responsibly farmed fish can be sustainable.
Wild Caught Fish: Fishermen must fish in ways that conserve marine habitats. This includes reducing pollution, minimizing bycatch (the unintended capture of non-targeted species), and regulating their target species to prevent overfishing. Fisheries are also responsible for accurately reporting the fish they land to ensure traceability.
Aquaculture: Fish farms must be responsibly managed, reducing pollution, preventing the spread of diseases, raising fish stocks without chemicals, avoiding wild-caught fish as feed for farmed species, and preventing the escape of farmed species, which may disrupt the surrounding wild marine life. When managed efficiently, aquaculture not only produces excellent seafood but can also aid in the restoration of wild marine habitats.
While definitions by the world's leading experts vary slightly, all agree that sustainable seafood is any fish or shellfish that comes from a healthy stock population—meaning the species is not endangered or overfished—and is harvested with minimal impact to the environment or other aquatic species.
We recognize that everyone's definition of sustainable seafood is different. Our guests and friends, Sarah and Steve Malinowski of Fisher's Island Oyster Farm have been in the business since the 1970s and eat only farmed fish because aquaculture is central to their definition of sustainable seafood.
Whether wild-caught or responsibly farmed, the choice is yours to make. The Crave Fishbar menu features some of the best sustainable seafood options, from wild-caught Montauk fluke to Faroe Islands salmon, which hails from one of the best aquaculture facilities in the world.
Is Local Seafood Sustainable?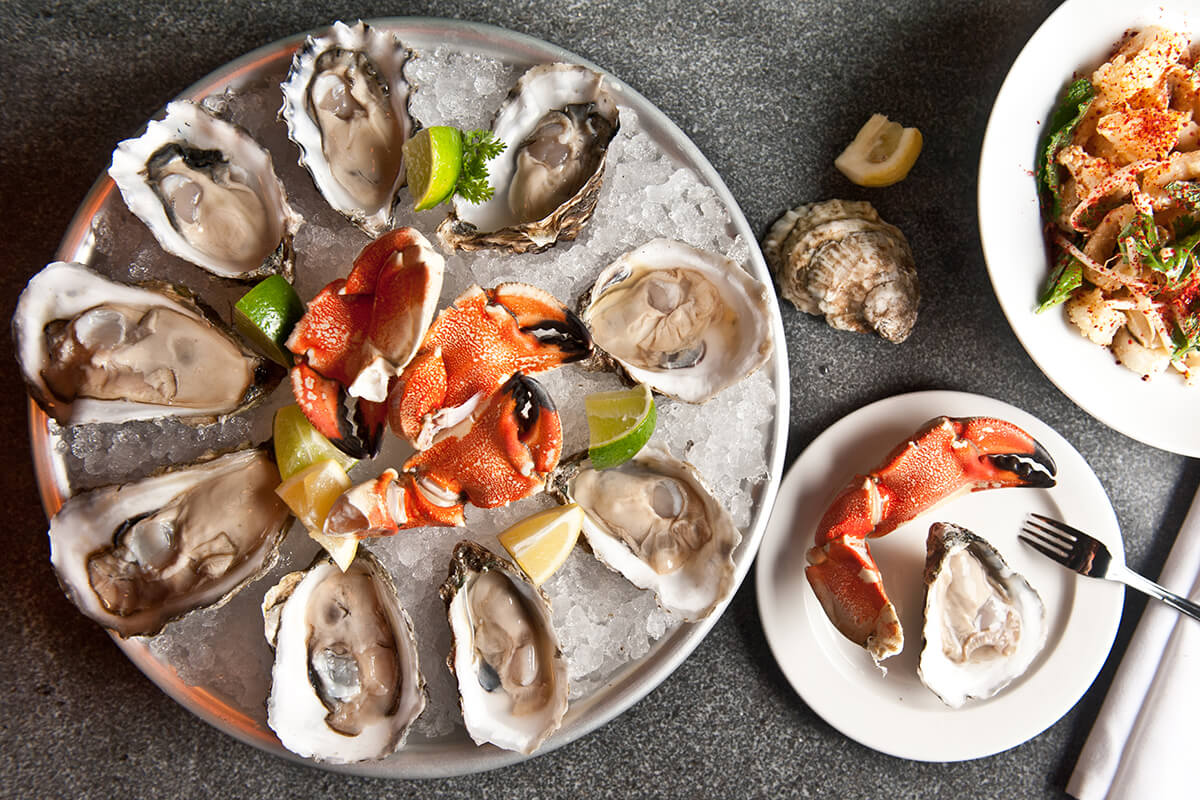 "As it turns out, just because something is being caught the right way, and just because it is local, does not mean that it's sustainable," Chef Todd says. If fishermen are landing and selling a local species from a low stock population to meet market demand—even when their process is environmentally cautious, and bycatch and waste are minimized—that still doesn't make for sustainable seafood. Sustainability is about ensuring the health of all species for generations to come.
Locality, sustainability, and freshness are intricately linked. Local fishermen naturally have more incentive to sustain the environments that sustain their livelihood. By developing relationships with local chefs in the area, they can promote underutilized species and create a market for fish that, although plentiful and delicious, may be lesser known to consumers.
In the range of animal protein, seafood has a lower environmental footprint than meat, and purchasing fish caught close to home means a shorter journey from the dock to your plate, further lowering carbon emissions along the way.
Why is Sustainable Seafood Important?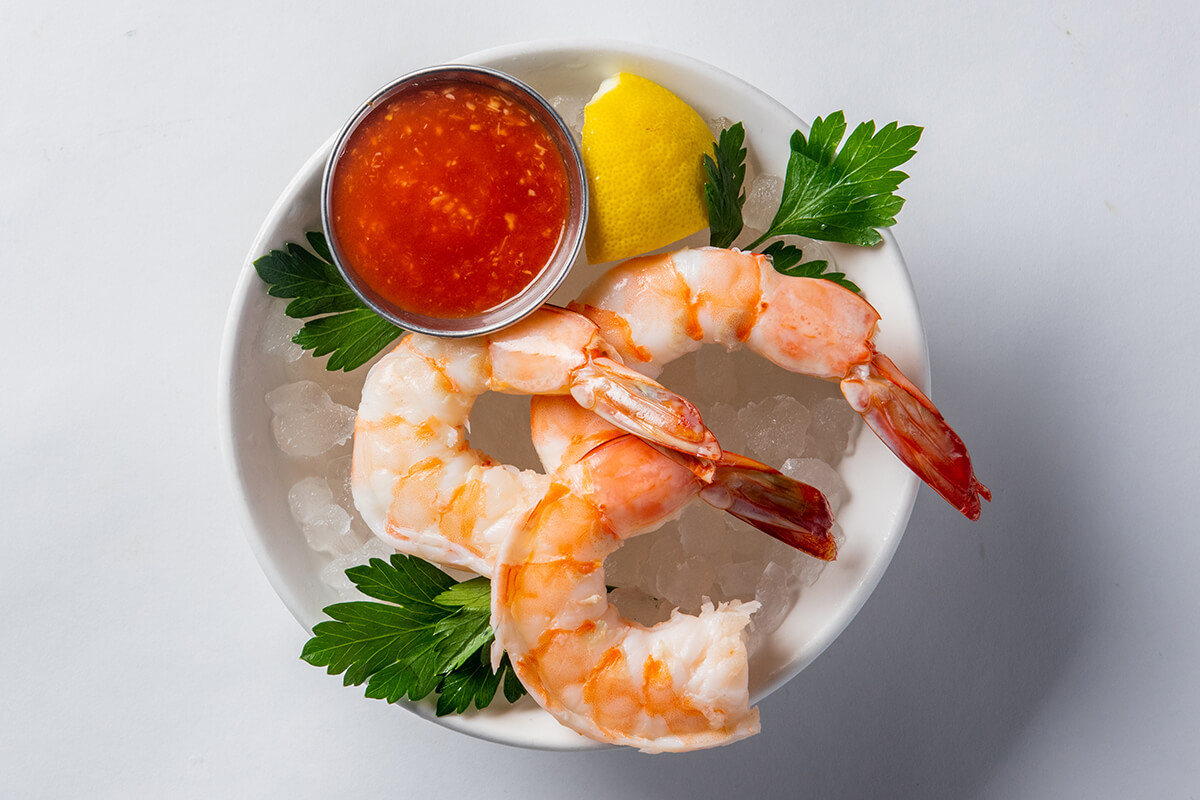 The seafood industry has some hard facts to face. Currently, 90% of fish stocks are fished at or beyond their sustainable limits. Unethical and illegal fishing contributes significantly to this statistic, and like many global industries, is subject to corruption. Overfishing is one of the biggest threats posed by the industry, and an estimated 4 of every 10 fish caught are bycatch.
Sometimes bycatch can turn out to be a delicious fish from a healthy population, caught unintentionally. Fishermen can sell these fish at the market. But more often than not, bycatch isn't a happy accident–this means turtles, sea birds, sharks, and other marine animals. When fishermen aren't allowed to sell this bycatch, they discard it, creating unnecessary waste, and disrupting marine habitats.
With the world population at an all-time high, demands for seafood have increased accordingly. Global seafood consumption has risen almost twice that of the annual population growth, increasing pressure on wild fish stocks. Without responsibly managed aquaculture, the oceans won't be able to sustain the millions of people who work in the seafood industry or the billions of people worldwide who rely on seafood for protein.
How to Practice Sustainability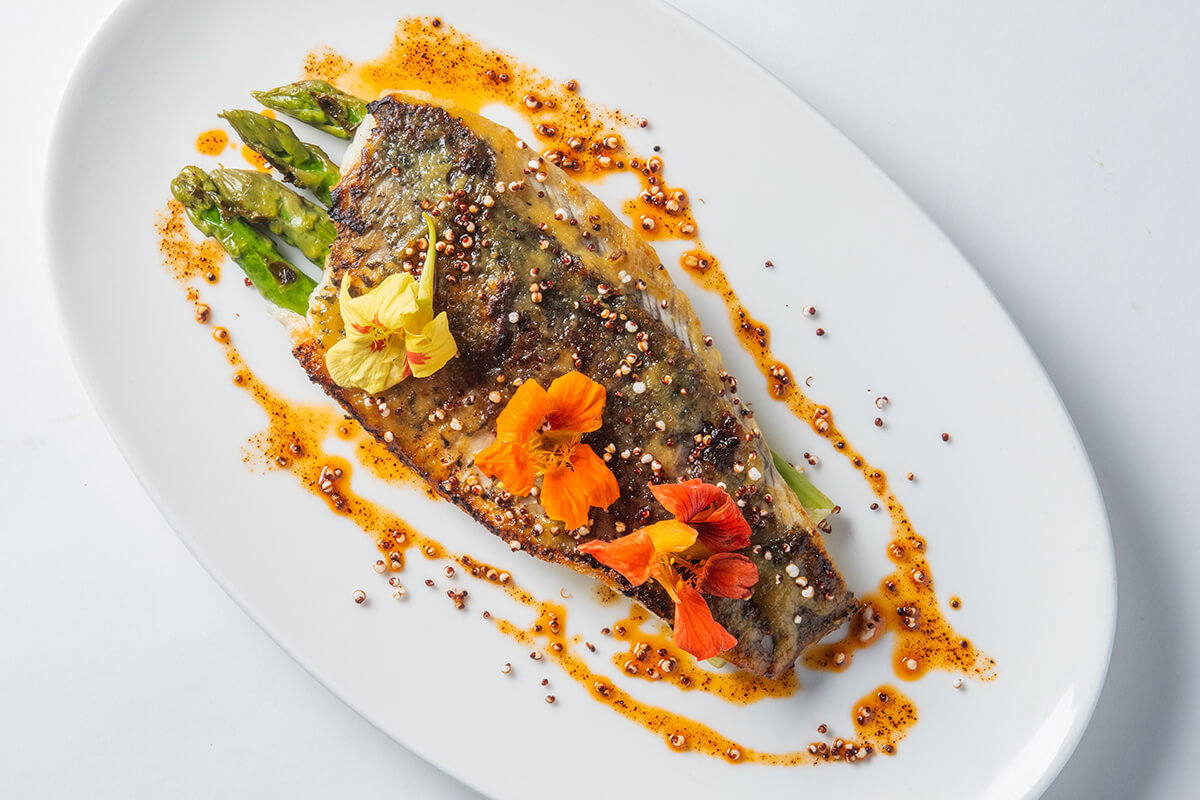 "This country relies on salmon, shrimp, and tuna when they think about eating seafood. We like to open up people's eyes to other fish. Our job in the restaurant is to create really delicious dishes, and the same time, kind of wow and surprise people with a fish that might be a throw-back fish or something that they would never even consider eating.
–Brian Owens
What
We Do:
Industry Relationships: Cultivating relationships with local fishermen and reliable distributors whose values align with ours enables us to source sustainable seafood of the highest quality.
Menu Variety: While salmon and tuna are always guaranteed to be bestsellers, showcasing lesser-known fish helps reduce the pressure on popular wild fish stocks and creates a market for underserved species. Switching up predictable species in popular dishes—poke with Montauk porgy instead of tuna, or ceviche with day boat fluke instead of shrimp—is a fun way to introduce different fish to diners.
Market Fish: We often feature a special "Market Fish" entrée on our menu, alternating the fish based on what our trusted fishermen are catching locally. By using an approachable preparation and seasonable produce, the market fish concept helps us highlight the diversity of our local waters.
Balancing Wild Caught & Responsibly Farmed Seafood: While there's always a market for wild-caught fish, we rely on responsible aquaculture to curb the pressure on wild fish stocks. About 52% of seafood comes from aquaculture. Our Faroe Island Salmon and house favorite Barramundi both hail from top-tier aquaculture and remain two of our longtime bestsellers.
We've featured a lot of east and west oyster varieties over the years—sometimes as many as twenty on our menu in a single day—most of which are farmed. Oyster and shellfish aquaculture is highly sustainable—bivalves can filter up to 100 gallons of water a day, purifying and enriching the environment for other marine life.
"It's not just about sourcing sustainable seafood for us, it kinda starts with that, that's what people see as guests, but there's also a lot of things behind the scenes that we're always working on to reduce our impact on the environment."

– Brian Owens
Sustainability in Operations: Our values guide our operational choices. In addition to sourcing sustainable seafood, meats, and organic local produce, we make ethical choices in all areas of our business. Our 2nd Avenue location is constructed with eco-friendly materials and energy-efficient mechanicals. We use environmentally sensitive cleaning agents. All of our take-out containers are made from recycled or plant-based materials that can be composted or recycled. Our menu is designed to reduce waste and, whenever possible, we donate extra food to local charities.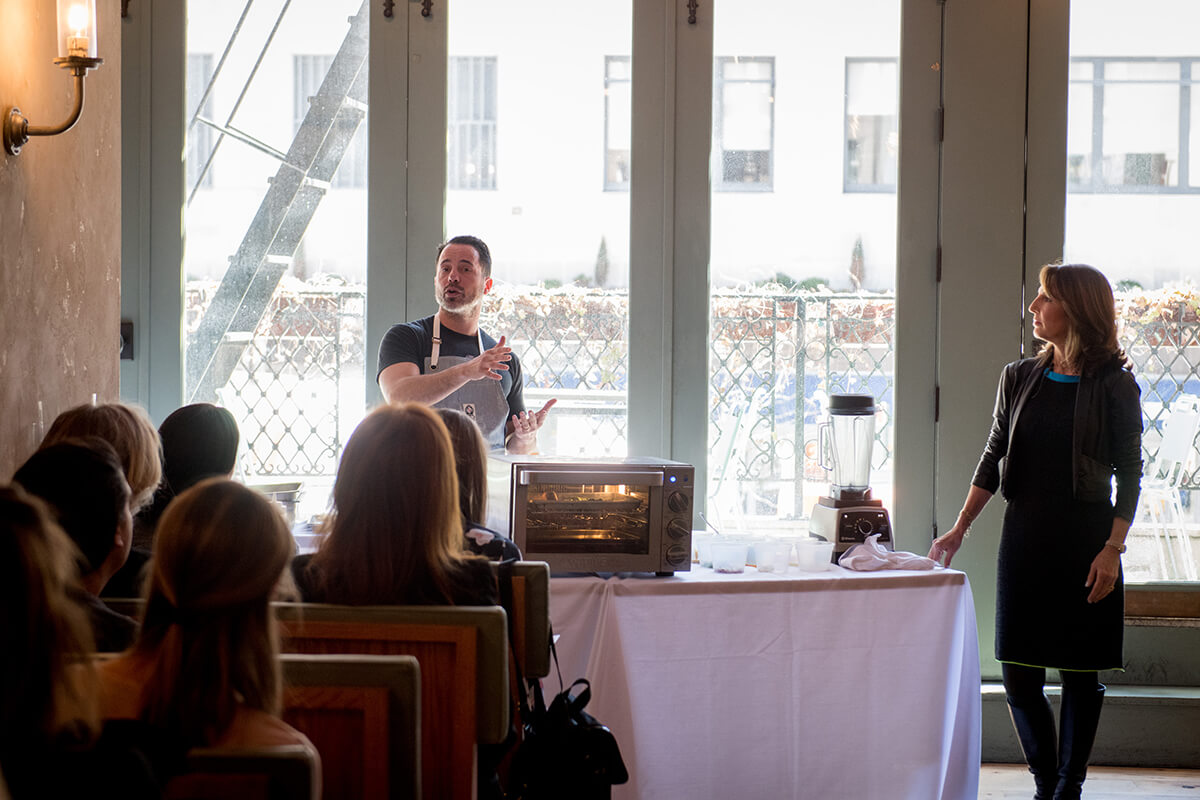 Partnerships in Sustainability: Since partnering with the Monterey Bay Aquarium in 2014, we've made an effort to link with other like-minded foundations to promote the sustainable mission.
James Beard Foundation Smart Catch: In 2018, we became one of the charter members of the James Beard Foundation's Smart Catch Program, an initiative created by chefs for chefs to increase the sustainability of the seafood supply chain.
Billion Oyster Project: Each week, at both of our locations, we shuck thousands of oysters to order. What happens to all those shells? Our master shuckers collect each one for donation to the Billion Oyster Project, our local charity partner. These recycled oyster shells naturally filter our waters and build up oyster reefs that protect NYC from storm damage and erosion. To date, we have donated over 12 tons of oyster shells!
Seafood Nutrition Partnership: Chef Todd is an ambassador of the Seafood Nutrition Partnership, a nonprofit that promotes the heart-healthy benefits of a seafood-inclusive diet. Through live events and cooking demonstrations, we work together to educate and inspire our community to incorporate more seafood and omega-3s into their diets for improved health.
B Corporation: In 2016, we were one of the few restaurants worldwide to become a certified B Corporation. The B Corp certification solidifies our commitment to using our business as a source for good. Beyond our sustainable practices, we also believe in bettering our community and creating a corporate culture that provides our employees with a positive place to support their dreams and grow with ours.
Education: Our understanding of sustainability continues to evolve with scientific and technological advances. We are committed to ongoing learning and adjusting our practices based on updated research. Our team members receive extensive training on sustainable practices, and we regularly provide seminars and classes with speakers from our distributors and sustainability partners. We encourage our team to share their knowledge with our guests, creating a dining experience that is both smart and fun. Empowering our guests with sustainable insights through delicious food in a fun environment is the Crave way.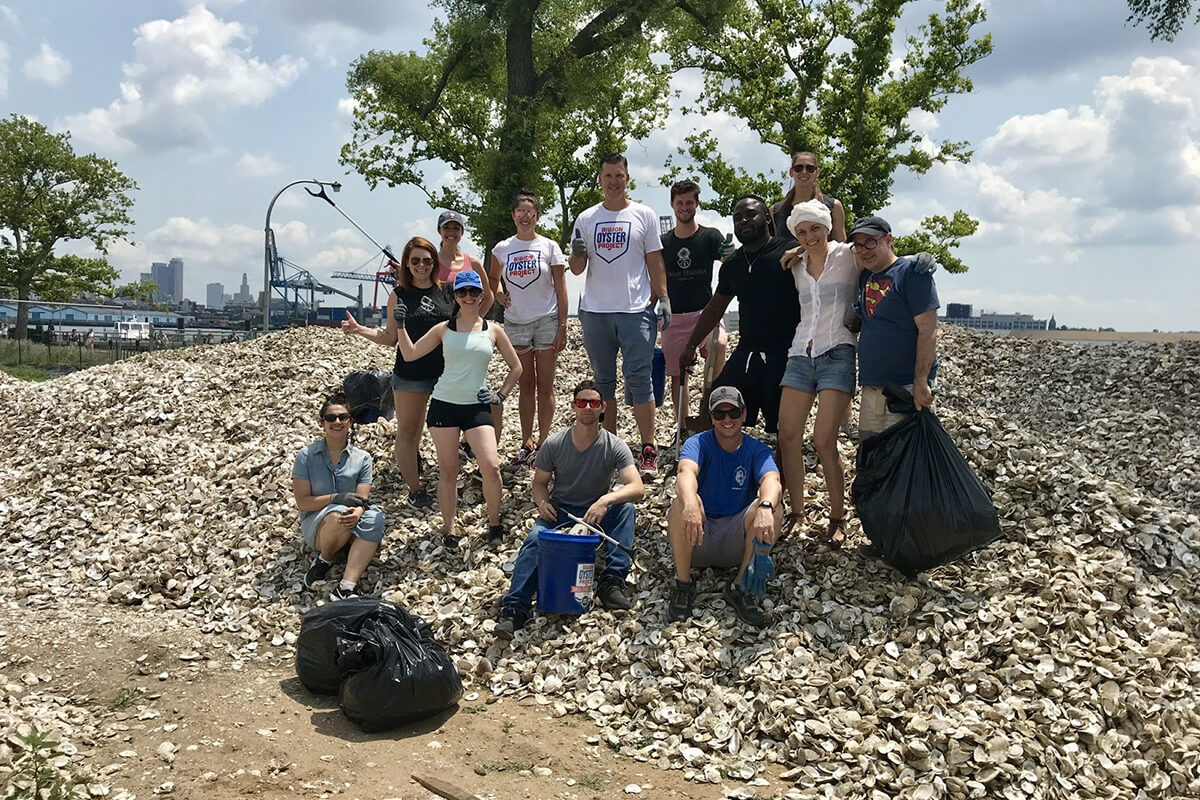 Ways You Can Be More Sustainable
While making a positive impact may seem daunting, there are several things you can do on a consumer level to promote sustainability and support positive change in the seafood industry.
Learn About Sustainable Seafood: If you're reading this, you're already taking a step towards sustainability. There is a lot of information (and misinformation) online. We recommend following reputable sources like The Monterey Bay Aquarium, United Nations, Marine Stewardship Council, and Ocean Wise for reliable information. These are great sources for learning about ocean sustainability.
Download the Seafood Watch App: The Monterey Bay Aquarium's Seafood Watch App provides a super-easy way to crosscheck the available fish on restaurant menus or in the market. The program rates all species in three easy-to-digest categories: Seafood Watch best choices, good alternatives, and species to avoid.
Ask for Sustainable Seafood: When you're ordering at a restaurant or shopping at your local fish market, ask if the products they carry are sustainable. Voicing your interest in sustainable products will encourage management to purchase sustainable options.
Commit to Only Buying and Consuming Sustainable Seafood: The most powerful thing you can do is commit to eating only sustainable seafood and supporting businesses that sell sustainable seafood. As a consumer, you have the power to put your money to work by supporting the causes you care about.