Oysters. They are the center of our raw bar, the perfect start to a meal, or an experience all their own. We can't imagine life without them.
During #Oystergram Happy Hour, we serve hundreds of oysters, freshly shucked to order. Our menu features up to twenty different varieties each day. If you've dined with us before, chances are good you're familiar with oysters. But whether you're a novice or practically an oyster-pro, here are our tips for tasting your way through the raw menu at Crave.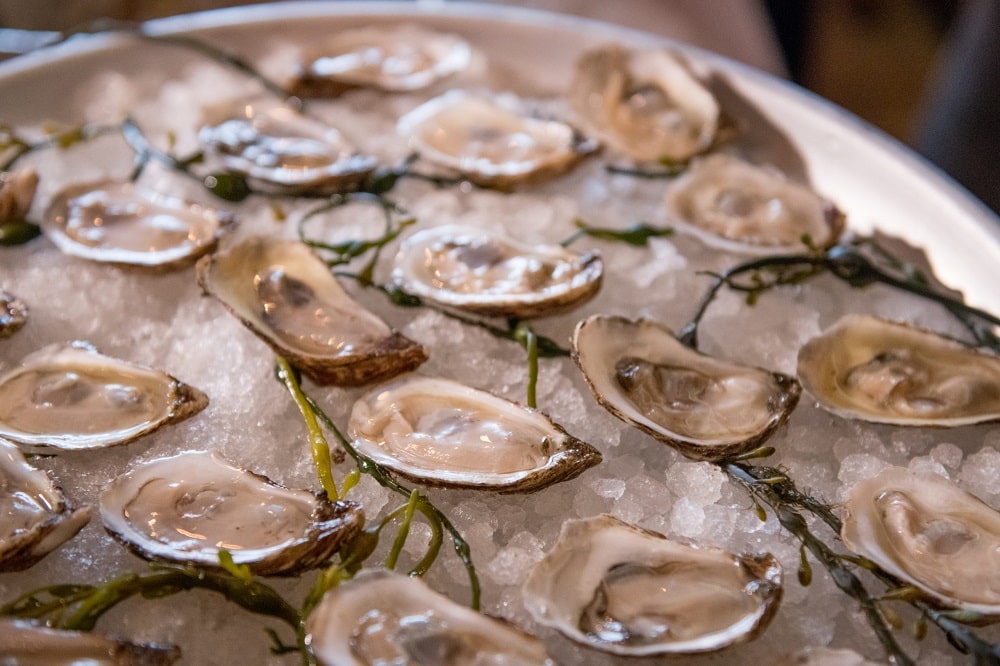 The Five Different Oysters Species
While there are over 500 different oyster names or varieties in the US, there are only five different oyster species.
East Coast Oysters – Crassostrea Virginia
The Crassostrea Virginia oyster species is native to the Atlantic and Gulf coasts of the US.
They're what we call "East Coast Oysters" on our menu.
Despite the hundreds of different brand names or "varieties," except for Belons, all East Coast oysters will be from this species.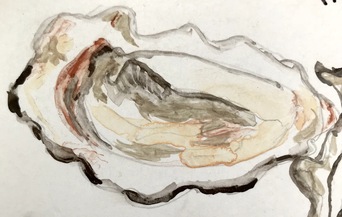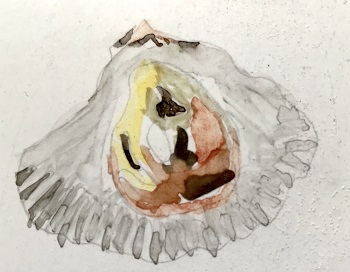 European Flats or Belons – Ostrea Edulis
European Flats, also called Belons, are native to Europe.
They are a rare treat in the States. Domestically, European Flats grow in Maine.
Their shells are round and flat, mirroring their name.
Olympia Oysters – Ostrea Lurida
This is the only oyster species native to the west coast. Due to habitat loss, the wild Olympia oyster is protected by law.
On menus, you'll see farmed Olympias, usually from the Puget Sound area in Washington.
Their shells are some of the smallest, often measuring less than two inches across.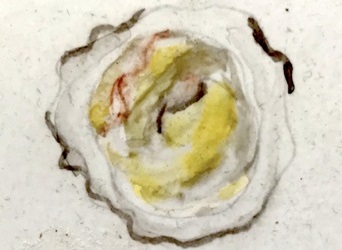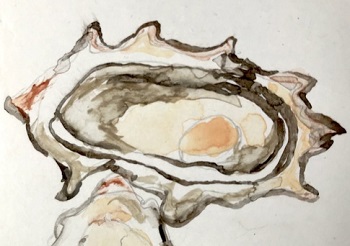 Pacific Oysters – Crassostrea Gigas
Native to the Japanese coast, Crassostrea Gigas is also known as the Japanese oyster.
They now grow in Australia, New Zealand, Europe, and here in the US.
These oysters have a pointy, fluted shell and tend to be larger than other west coast varieties.
Kumamoto Oysters – Crassostrea Sikamea
A separate species from Pacific Oysters, the Kumamoto is also native to Asia.
Kumamotos are named after their geographic origin in Japan. They have small, round shells with jagged flutes and a deep cup.
At two inches, they are considered fully grown. Unlike other oyster species, Kumamotos will be called by their species name on restaurant menus.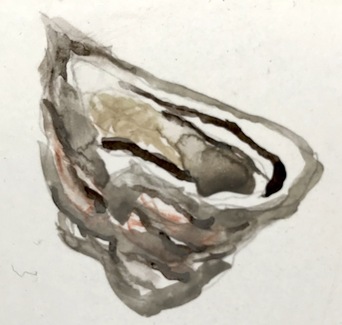 A Note On COVID: How the Pandemic Affects Our Raw Bar Menu
The COVID-19 pandemic has interrupted oyster supply chains across the country. 95% of oysters in the United States are farmed, and pandemic restrictions have limited production at every step. These oyster farms rely on restaurants for survival, and we rely on responsible oyster farms to cultivate the fresh product we love so much.
After being shut down for six months and reopening with limited seating capacity, our raw bar menu is the smallest it's ever been. But things are looking up. More people are dining out and we're adding more oyster varieties to the menu. We look forward to serving all of our favorite oysters again, soon.
A Note On Oyster Names
As most oysters are farmed in North America, growers choose their own "brand name" for oysters. These names typically reflect the geographic location where the oyster originates, not the species. There are exceptions to this–Kumamoto oysters as mentioned above, or the controversial Blue Point from the East Coast, whose name has been used as a marketing ploy throughout different east coast locations.
Merroir
No other food captures the flavor of a place like an oyster. While oysters of a certain species may be genetically predisposed to size or shell shape, the breed itself has little influence on an oyster's flavor. Geography determines taste. Oysters have merroir–an aquatic play on the term terroir, meaning that water temperature, salinity, algae, and other maritime conditions develop an oyster's flavor.
Oysters are filter feeders. They gather nutrients from filtering the water where they grow. A single oyster can filter up to 50 gallons a day. This filtering develops merroir and cleanses the environment, making oysters both delicious and highly sustainable.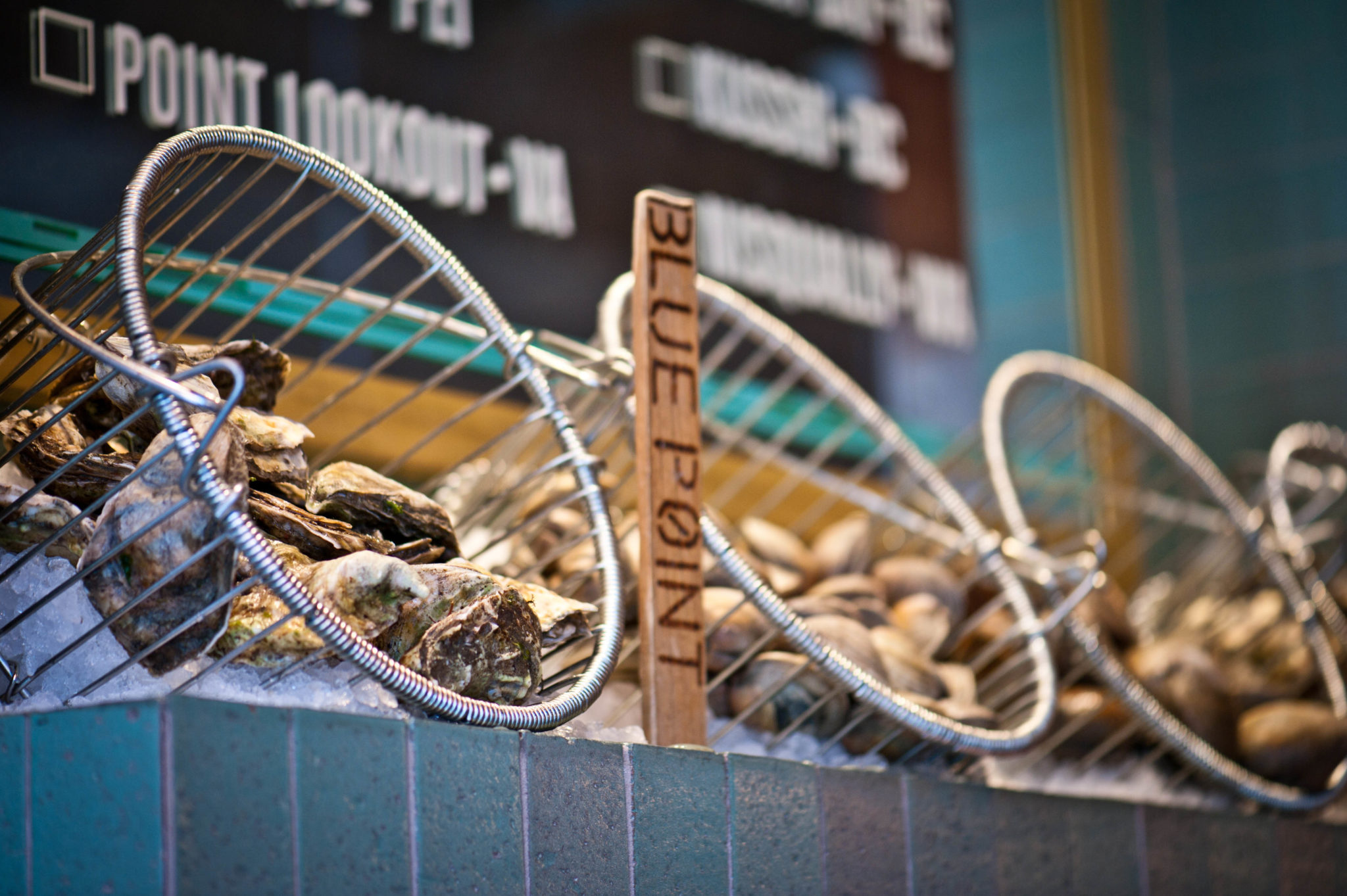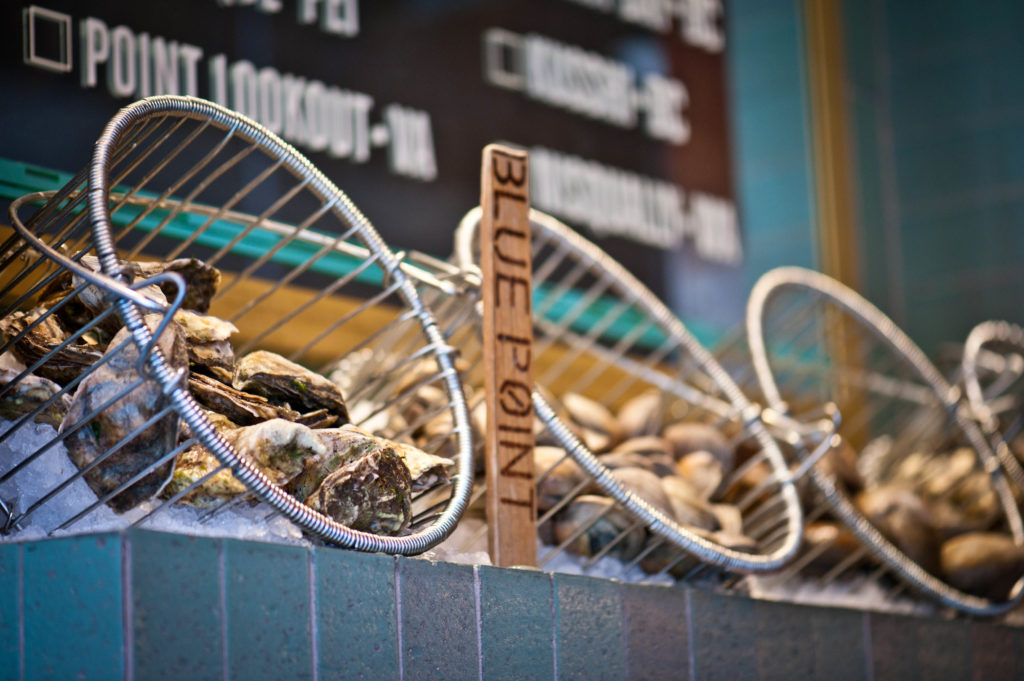 The Difference Between East Coast and West Coast Oysters
Every oyster is unique, but in comparing east coast oysters vs west coast, you'll find general differences in the shape, shell, taste, and texture.
East Coast Oysters
The main difference between east and west coast oysters is the briny flavor. East Coast oysters tend to have high salinity and a lot of minerality. Predominant flavors include brine, copper, seaweed, or vegetal tastes. The meat, or texture, is often chewy, distinctly more solid than a West Coast oyster. While they range in size, most East Coast oysters on the market are medium, or about three inches long. An East Coast oyster will almost always have a shallow cup.
West Coast Oysters
When comparing West Coast vs East Coast oysters, you'll notice that West Coast oysters often have a sweetness about them. They are creamy in taste and texture, less briny than the East Coast varieties. Outstanding flavors include melon, sweetness, butter, and cucumber. Their most noteworthy distinction is their deeply cupped shell. It's not uncommon for them to be small in size, but depending on the variety, they range from small to medium in size.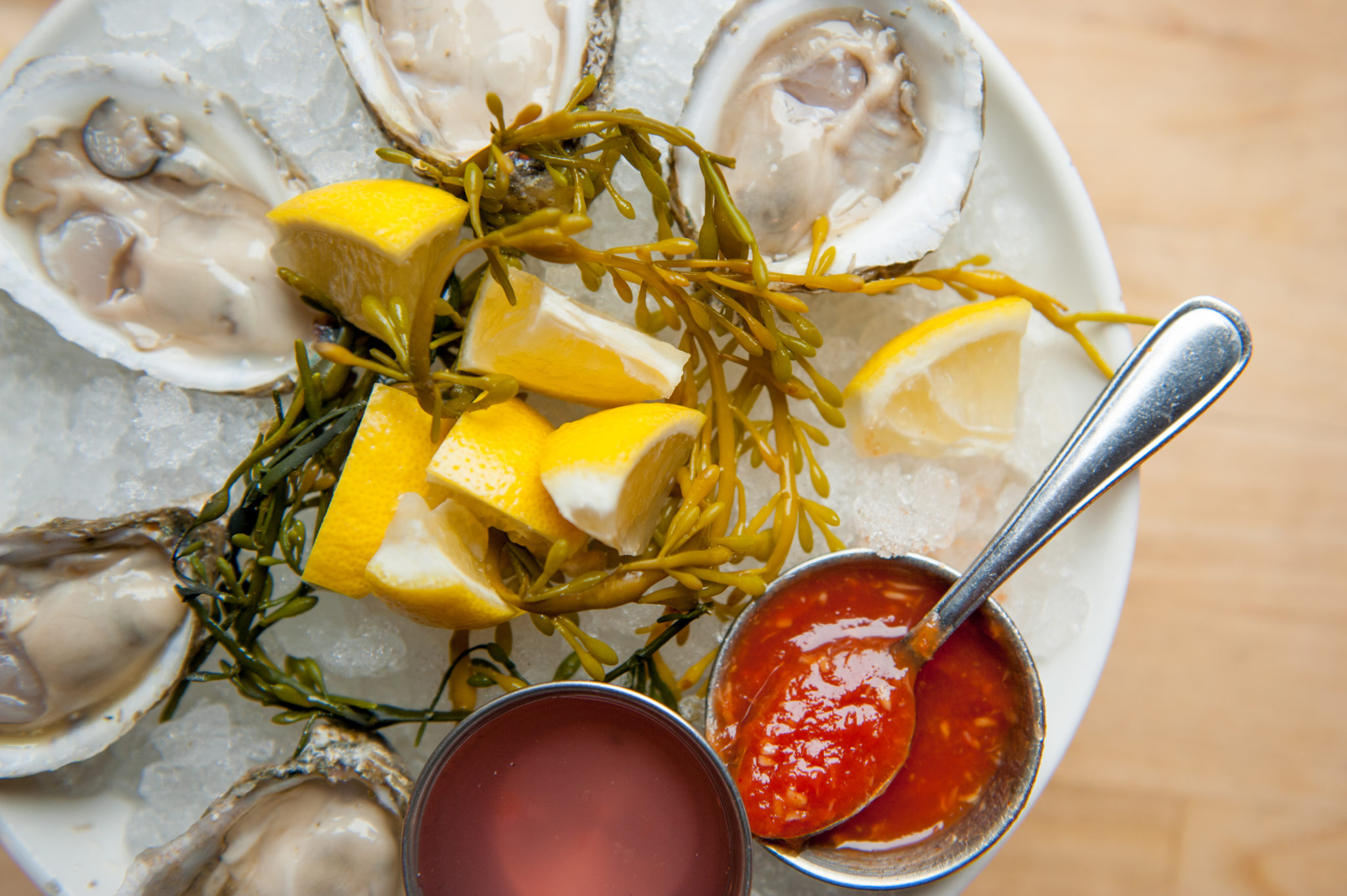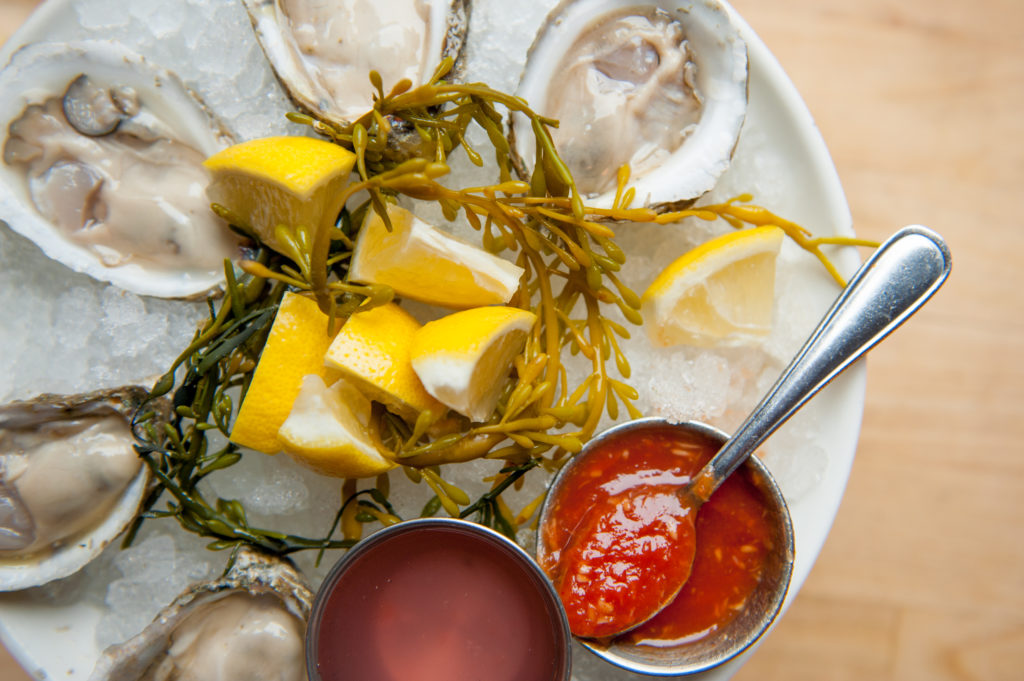 Ordering & Tasting Oysters: Our Recommendations
Now that you know about the different oyster species and merroir, it's time to taste your way through the menu. Shuck yeah.
The Oyster Menu
On your oyster tasting journey, the menu is your tour guide. Each oyster is listed by the variety or brand name first, followed by the specific geographic location where the oyster is cultivated. Our raw bar menu separates east and west coast oysters into sections. The most local oyster is listed first–meaning the first oyster is geographically closest to Crave Fishbar. Less local oysters follow in descending order and American-grown oysters are always listed before those imported from Canada.
There's no wrong way to do it, but we recommend limiting your tasting to five different oyster varieties at most. This will help your palate differentiate the characteristics of each variety.
A Taste of Geography
The best way to familiarize yourself with merior is to compare different oysters from the same geographic location. Try all of the different oysters from New York, or Puget Sound, WA for example. You'll discover a world of flavor within one coast or body of water.
The classic bicoastal comparison, East Coast vs. West Coast, will highlight the distinct flavor profiles of each major region. In this tasting, it's easy to understand the general differences in flavor, shape, and texture.
Two of a Kind
When trying a new-to-you oyster variety, we recommend eating at least two of the same kind. You will find a range of flavors within one "brand" of oyster, as no two are exactly alike.
Shuck Yeah
At Crave Fishbar, you can expect your oysters to be cleanly shucked, free of debris or bits of cracked shell. The meat should be whole, unbroken. The oyster will appear clean, glistening in its oyster "liquor" and primed to slurp back. But don't wait too long to eat them–freshwater from ice melt can ruin the oyster's taste.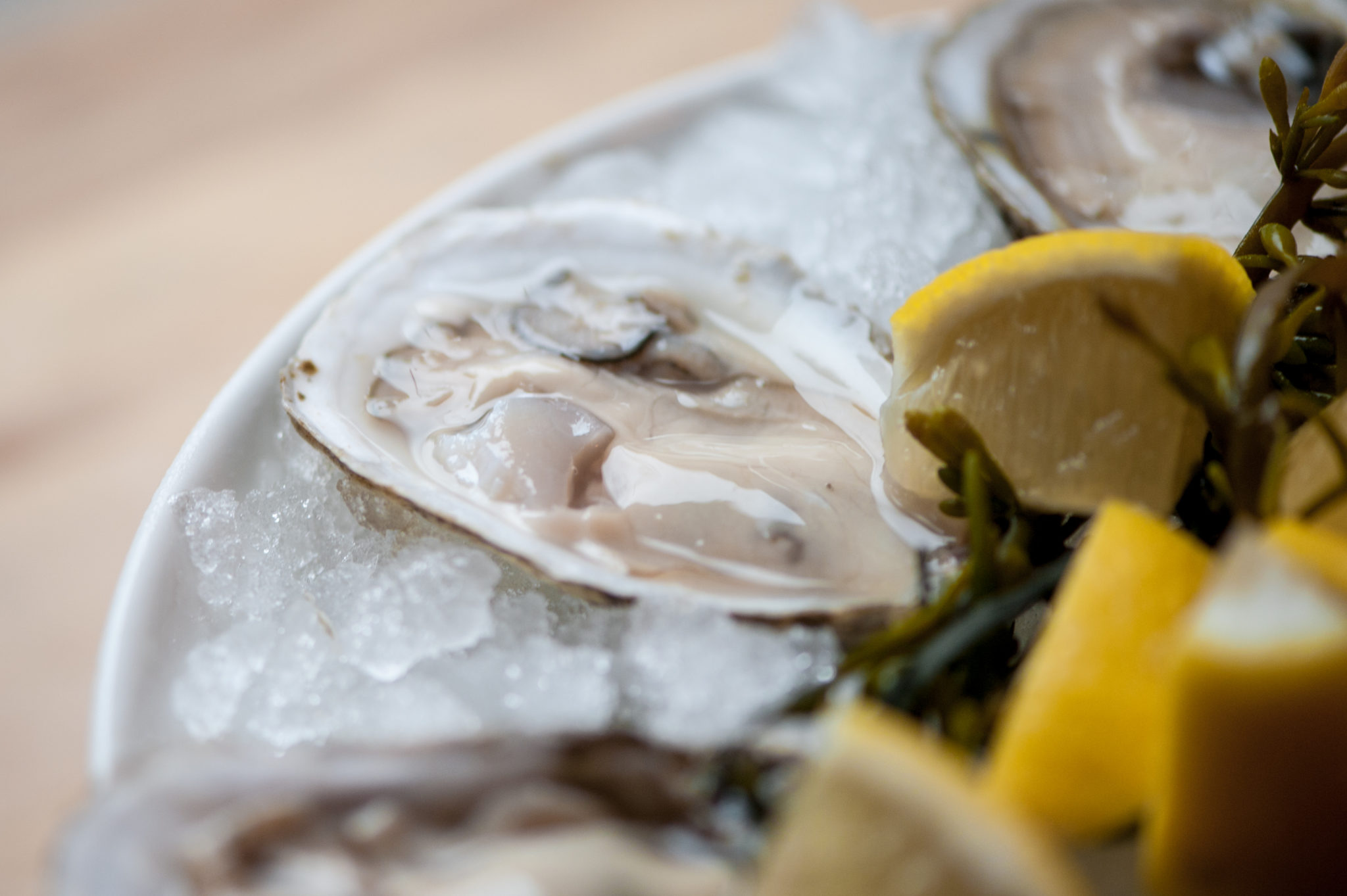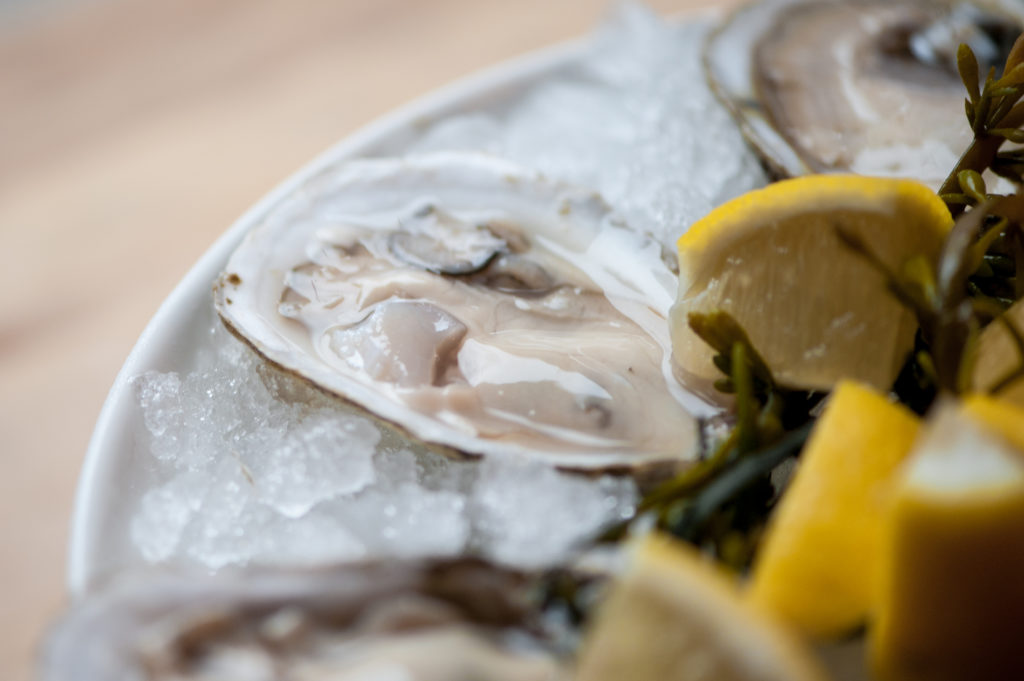 How to Taste Oysters
Oysters offer a complete sensory experience on the half-shell. To get the most out of your oyster experience, linger over the following:
Look: Every oyster has distinct characteristics in its shell, meat, and liquor. Take a moment to observe the visual qualities of the oyster.
Smell: You may experience memories of the ocean when you lift the cup to your nose. An oyster's aroma should reflect ocean brine and sometimes other earthy notes or sweetness, but never a "fishy" smell.
Slurp: Take the oyster and liquor straight from the shell or, if you're using a cocktail fork, be sure to sip the oyster's liquor for the full effect.
Savor: After that initial hit of brine, what other flavors reveal themselves? Is there brightness or sweetness? Can you taste seaweed or cucumber or other vegetal flavors? Is the texture chewy, creamy, or something in between?
Experience: How did the oyster make you feel? Transported to a summer day? Feeling like an experienced gourmand? Or, at least, sexier than you felt before? The oyster's aphrodisiac quality has been debated, but there's no argument that eating freshly shucked oysters is a sensory experience and one we look forward to having again and again.
Repeat: Place your empty shell upside down on the ice tray so you can keep track of the varieties you've tried and what's coming up next.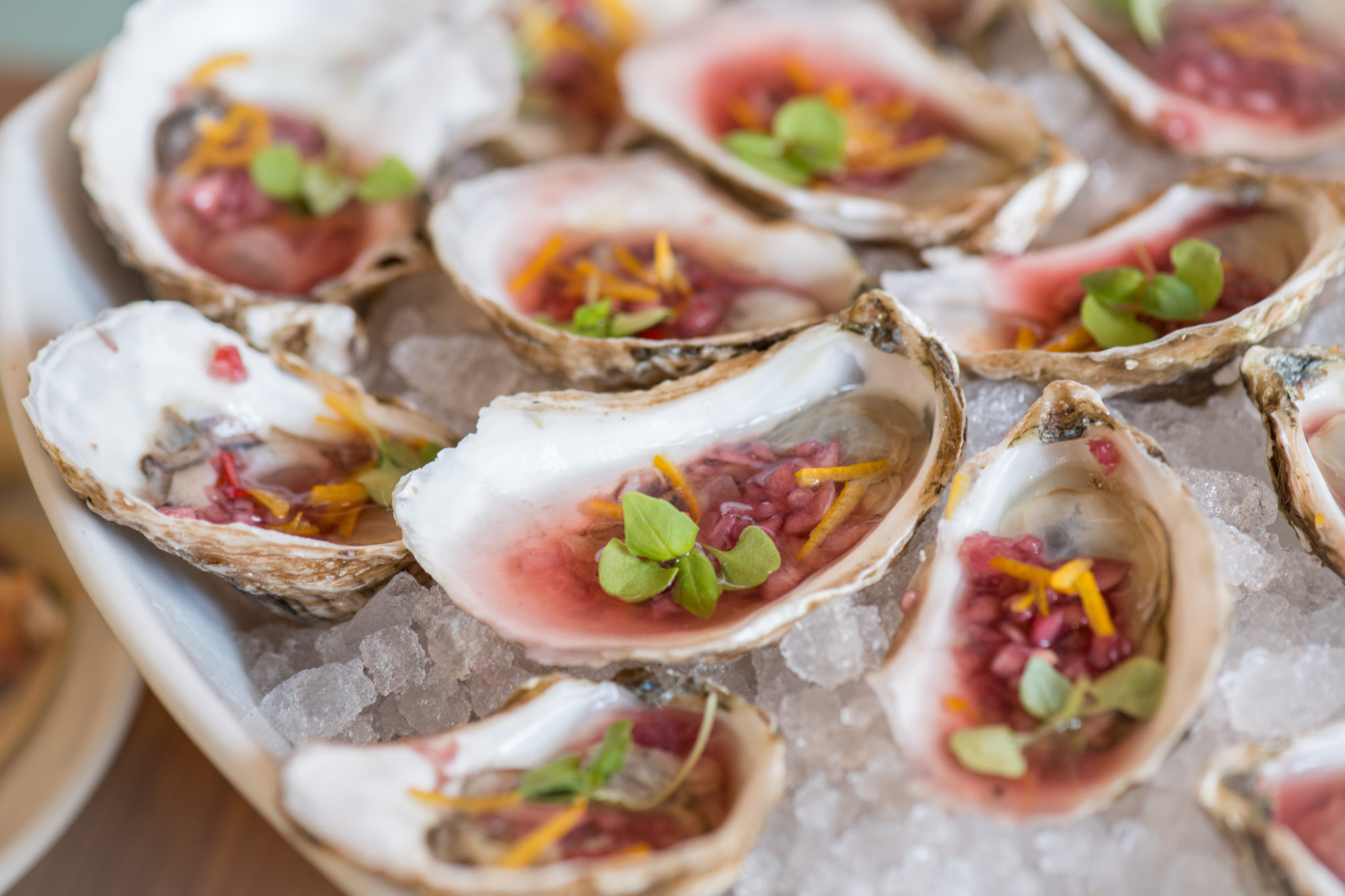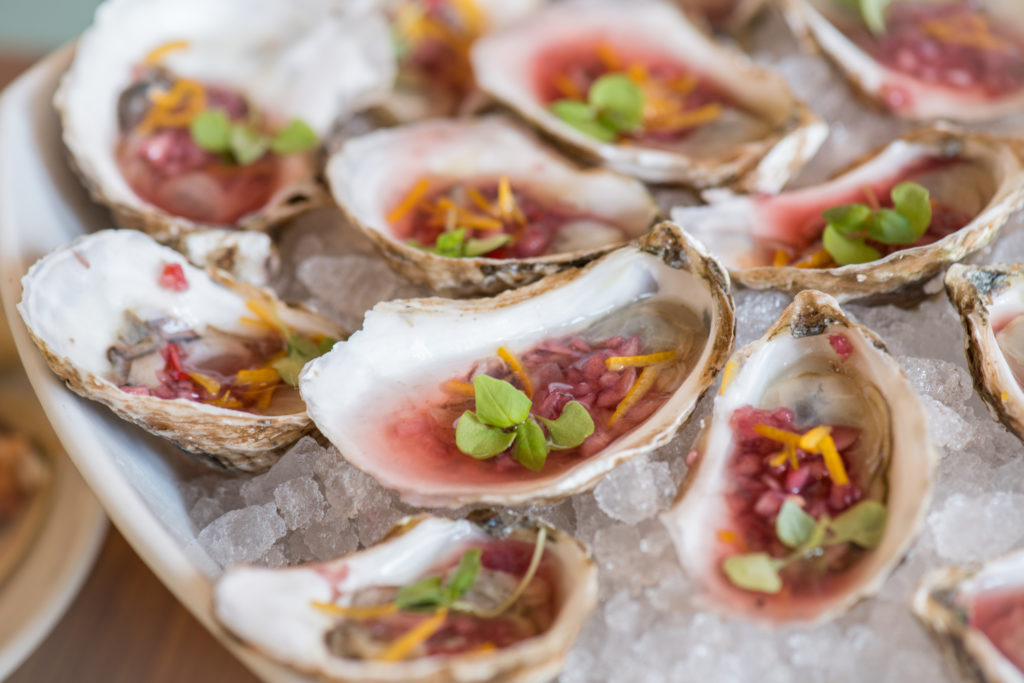 Oyster Accoutrements
If you're tasting a variety of oysters for the first time, we recommend a purist approach of keeping it raw. But if you want to give your oyster a little extra zing, you can't go wrong with the following classic pairings:
Lemon: We serve fresh lemon slices with each of our raw bar platters. The lemon's tartness complements the oyster's brine.
Fresh Horseradish: The shaved perennial packs a punch of spice and gives a complementary flavor you won't find in any raw oyster. Ours is always freshly grated.
Cocktail Sauce: The quality of your cocktail sauce can enhance or mask the oyster's natural taste. Our homemade sauce strikes the perfect balance between sweetness and tang. Just be sure to use in moderation–too much of any sauce can overpower the oyster.
Mignonette: Another classic pairing. Our homemade mignonette is made with grapefruit. The grapefruit's bright, subtle sweetness accents the oyster perfectly, while the cracked pepper, minced shallots, and vinegar complement the oyster's minerality and brine.
Ginger Scallion Oil: Here's one of our homemade sauces you're unlikely to find anyplace else. This is a simple, three-ingredient sauce that pairs perfectly with the creaminess of West Coast oysters. Ginger adds a bit of spice and the scallion compliments the oyster's earthy notes.
Hot Sauce: Made in-house with pequin chile, hot sauce is a fun way to add depth of flavor to the oyster's natural brine.
Oyster Varieties to Try at Crave Fishbar
With hundreds of oysters farmed or harvested in the US alone, we've narrowed down our oyster guide to the varieties you're likely to see on our raw bar menu. On the East Coast, we serve oysters from the local New York area, north to Canada, and as far south as Virginia. From the West Coast, we focus on northwestern varieties from the US and Canada.
EAST COAST OYSTERS AT CRAVE FISHBAR
Blue Point – Great South Bay, NY
Wild harvest
Flavor Profile: Mild taste, meats are full with mild to medium salinity.
Size: Roughly 3.5-4" in diameter, with a relatively round shell, and pronounced cup. When our guests ask for a "large oyster," the Blue Point comes to mind.
Fun Fact: These are considered "beginner oysters," due to their mild salinity and easy pairing with cocktail sauce. Due to a complicated history with the brand name "Blue Point," these oysters are infamous for being "common" or "bland." We disagree. Historically, the oyster was so popular that other oyster grows began calling their oysters Blue Point–even when raised on the Connecticut side of the bay, or as far south as Virginia, but true Blue Points are only found in the Great South Bay.
Wild Fire Island – Mecox Bay, NY
Flavor Profile: medium brine, herbaceous, earthy, mild mineral finish
Size: Medium
Silver Fox– Napeague Bay, NY
Responsibly farmed
Flavor Profile: high salinity, full firm & clean meat, buttery finish
Size: Small
Fishers Island – Fishers Island, NY
Responsibly farmed
Flavor Profile: bright a briny with hints of minerality; crisp, clean finish
Size: Medium (3-3.5 inches long); teardrop-shaped
Fun Fact: Fishers Island oysters are the only products exported from Fishers Island.
Montauk Pearl – Montauk, NY
Responsibly farmed
Flavor Profile: Briny liqueur, which hugs dense, rounded meat. Plump, tender, salty.
Size: Medium. Shells have a distinct black stripe. Teardrop shape.
Umami – Narragansett Bay, RI
Responsibly farmed
Flavor Profile: tender meat; clean, sweet, and light in flavor
Size: small, shallow cup
Fun Fact: "Umami" is also considered to be one of the 5 taste sensations (along with sweet, sour, salty, and bitter). It generally means "meaty" or "pleasantly savory."
Wild Goose – Narragansett Bay, RI
Responsibly farmed
Flavor Profile: medium salinity, smooth silky meats, sweet finish
Size: Medium
Point Lookout – Chesapeake Bay, MD
Responsibly farmed
Flavor Profile: Sweet meat with a crisp and clean finish. Plump and firm texture.
Size: Small
Big Rock – Harwich, MA
Responsibly farmed
Flavor Profile: crisp and salty with a delicate texture
Size: Small – Medium
East Dennis – Quivet Neck, MA
Responsibly farmed
Flavor Profile: high brine, plump meat, nice umami taste
Size: Medium
Wellfleet – Wellfleet, MA
Responsibly farmed
Flavor Profile: Sharp salinity, plump meat, seaweed finish
Size: Medium
Powder Point – Duxbury, MA
Responsibly farmed
Flavor Profile: Plump meat with a great balance between salty and sweet; clean finish
Size: Medium (3-3.5 inches long)
Island Creek – Duxbury, MA
Responsibly farmed
Flavor Profile: Island Creeks have a distinct, segmented flavor profile. Upfront brine, middle vegetal notes (moss, butter, eel, grass), sweet finish. These tend to be on the milder side and are a very "beginner-friendly" large oyster.
Size: Large
Moondancer – Damariscotta, ME
Responsibly farmed
Flavor Profile: Medium salinity, sweet crisp body, high mineral finish
Size: Small – Medium
White Stone – Windmill Point, VA
Responsibly Farmed
Flavor Profile: medium salt with a buttery, cucumber finish
Size: Small – Medium and plump
Sewansecott – Hog Island Bay, VA
Responsibly farmed
Flavor Profile: full-body brine, a touch of umami, mellowing to a hint of sweetness
Size: Large
Black Duck Salt – Hog Island Bay, VA
Responsibly farmed
Flavor Profile: High salinity, sweet crisp body, grassy finish.
Size: Medium
St. Simon – New Brunswick, CAN
Responsibly farmed
Flavor Profile: briny upfront with a sweet and buttery finish
Size: Small-Medium; the shells have a smooth teardrop shape.
Malpeque – Prince Edward Island, CAN
Responsibly farmed
Flavor Profile: They have tender meat with a nice balance of brininess and sweetness. Crisp, lettuce-like finish.
Size: Medium – Large
Fun Fact: Malpeques are often considered the "Blue Points of Canada."
WEST COAST OYSTERS AT CRAVE FISHBAR
Skookum – Puget Sound, WA
Responsibly farmed
Flavor Profile: sweet and musky with a mild salinity and vegetable finish
Size: Small – Medium
Fun Fact: Little Skookum Inlet is the farthest inland capillary of the Puget Sound, meaning the oysters are influenced more by the freshwater from inland than the salt water of the sea (resulting in less salty oysters).
 Shibumi – Henderson Inlet, WA
Responsibly farmed
Flavor Profile: light salinity, plump buttery meat, sweet finish
Size: Small
Shigoku – Samish Bay, WA
Responsibly farmed
Flavor Profile: Light salinity, sweet creamy body, cucumber, and water chestnut finish
Size: Small
Capital – Spencer Cove, WA
Responsibly farmed
Flavor Profile: crisp and salty with a clean finish
Size: Small and deep with a smooth shell
Hood Canal – Hood Canal, WA
Responsibly farmed
Flavor Profile: often called the quintessential WA state oyster – firm meat; creamy with a bitter melon finish
Size: Small – Medium
Neptune's Choice – Hood Canal, WA
Responsibly farmed
Flavor Profile: medium salt with a sweet, creamy body and melon finish
Size: Medium – Large
Pebble Beach – Hood Canal, WA
Wild, Beach raised
Hand-harvested, and beach-raised in the southern area of Hood Canal
Flavor Profile: Briny meat, pleasantly sweet finish
Size: Small – Medium
Goose Point – Willapa Bay, WA
Responsibly farmed
Flavor Profile: Light salinity, plump body, seaweed finish
Size: Small
Totten Inlet – Pickering Pass, WA
Responsibly farmed
Light salinity, sweet creamy body, cantaloupe finish
Size: Medium – Large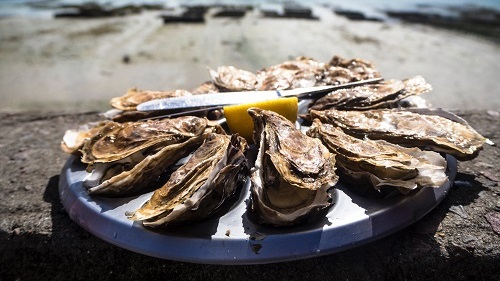 Join us for #Oystergram Happy Hour
Wednesday – Sunday 4 – 6 pm
Dinner
Wednesday – Thursday 4-10
Friday – Saturday 4 – 11
Sunday 4 – 9:30